Sell Your Vehicle To Us

Sioux Falls Ford Lincoln Will Buy Your Vehicle!
When you're looking to move on from your current vehicle, the team at Sioux Falls Ford Lincoln has a deal that's just right for you! You can sell your car to us, and we'll offer you payment right there on the spot. Our goal is to get you fair value for your vehicle, so stop by today and see what your vehicle will sell for!
Used cars are always in high demand. We will take the drama out of selling it yourself.
No obligation evaluation
All vehicle makes and models
Receive payment immediately with a check on the spot*
Multiple pre-owned vehicle evaluators
It's easy to sell your car to us. Come in anytime and get started with our evaluators. Or, schedule an appointment and bring your vehicle title for added convenience and save more time!
*Must have vehicle title available during process.
Why Sell Your Vehicle to Sioux Falls Ford Lincoln?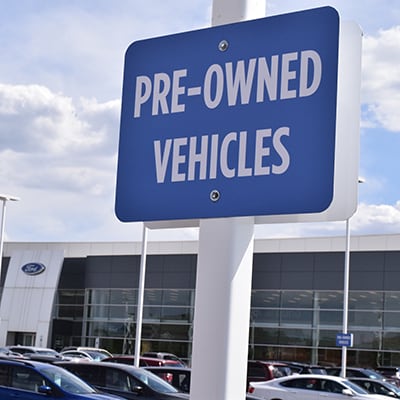 Used cars are always in high demand. Whether it's a family that is looking for their second vehicle to help get around town or the student who needs their first car, finding an affordable used option is the only way they can get behind the wheel of a vehicle. We want to take the drama out of selling it yourself, which can often lead to deals that don't work out and hours of haggling that get you nowhere near a reasonable price.
We make it easy to sell your vehicle to us. When you first bring it to our dealership, we offer a no-obligation evaluation that determines the worth of your vehicle and gives you an estimate based on its condition. We accept all makes and models, so you don't have to worry that we'll favor Ford or Lincoln options over others.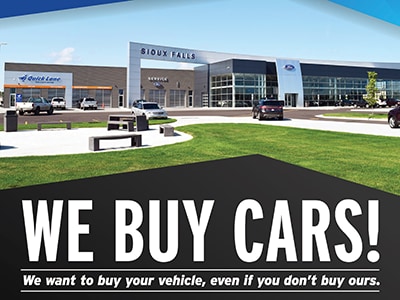 Once we determine the amount for your vehicle and you accept the terms of the offer, you'll receive payment in the form of a check right there on the spot - no waiting days to get it in the mail! You're under no obligation to buy again with us, but we're more than happy to help you browse our inventory to see if there's a fit for you! We also employ multiple pre-owned vehicle evaluators, so you won't have long to wait to get an estimate!
Make an Inquiry
* Indicates a required field
Hours
Monday

9am-8pm

Tuesday

9am-8pm

Wednesday

9am-8pm

Thursday

9am-8pm

Friday

9am-7pm

Saturday

8am-6pm

Sunday

Closed