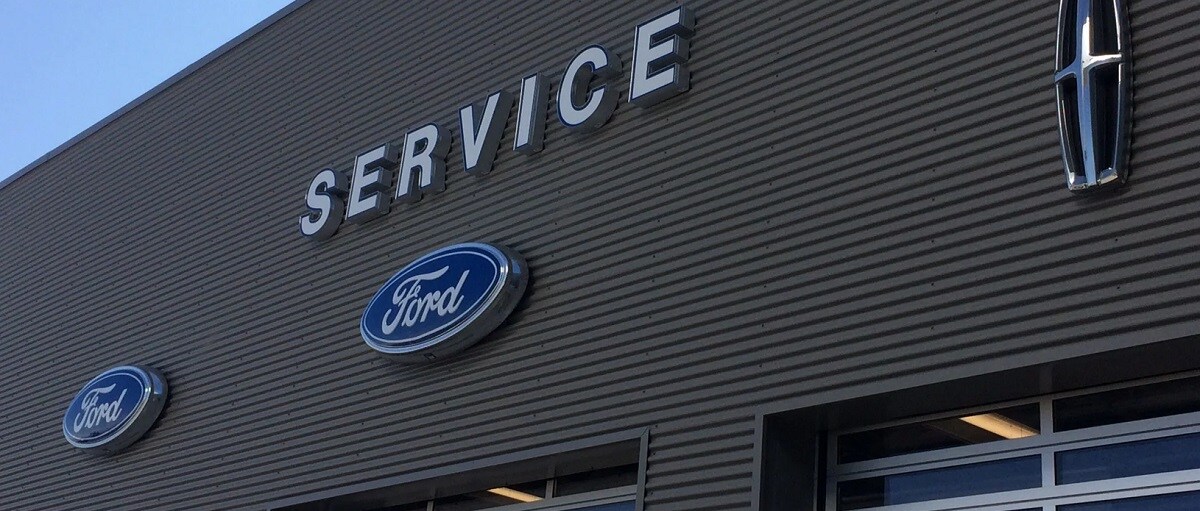 Schedule Ford Service in Sioux Falls, SD
Your Ford is a trusty automotive sidekick that's always there for you when you need it. Whether you're taking the family on a cross-country road trip or just commuting to work, your Ford is always up for the task. But even the most dependable vehicles, such as your Ford SUV, truck, or sedan, need a little TLC from time to time, which is why keeping up with your Ford's service and maintenance schedule is essential. That's the only way to maximize your Ford's longevity and prevent minor issues from turning into big (and expensive) problems over time.
Upholding your Ford's integrity is something we at Sioux Falls Ford take seriously. That's why we offer a wide range of services to keep your vehicle running like new, no matter how many miles it's racked up. Whether you're due for an oil change, tire rotation, or a mystery Ford warning light is displaying, our team of certified Ford technicians is here to help. We understand your time is valuable, so we offer convenient scheduling and express services to get you in and out as quickly as possible.
So what are you waiting for? Schedule service at Sioux Falls Ford today and take advantage of our service coupons and specials. Your car will thank you - and so will your wallet.
What Does Scheduled Maintenance For Ford Vehicles Involve?
Before we get into the nitty-gritty of our service offerings, let's quickly review what scheduled maintenance is and why it's so vital to the health of your vehicle. In a nutshell, scheduled maintenance is a series of regular check-ups and services designed to keep your car running smoothly. These services are typically outlined in your Ford's owner's manual, and they help ensure that all the major systems in your vehicle are functioning properly.
Thankfully, your Ford's service and maintenance schedule is straightforward and easy to follow. Typically, you'll need to bring your Ford in for service every 10,000 miles. However, this can vary depending on your driving habits and the type of Ford you own. For example, if you do a lot of stop-and-go driving in the city, you may need to service your Ford more frequently than someone who mostly drives on the highway.
Skipping scheduled maintenance appointments can have several negative consequences for your car. For one, it can cause your vehicle to break down unexpectedly, leaving you stranded on the side of the road. Additionally, neglecting to maintain your car can void your warranty and lead to more expensive repairs. In short, it's just not worth the risk.
Services Offered at Sioux Falls Ford
So now that we've established how essential scheduled maintenance is for the health of your Ford, let's take a look at some of the services we offer here at Sioux Falls Ford.
Oil change: As you probably know, oil is essential for keeping your engine running smoothly. However, oil breaks down over time, becoming less effective at lubricating your engine. That's why it's important to get your oil changed regularly. Depending on your driving habits, you may need to change your oil as often as every 3,000 miles for optimal performance.
Tire rotation and balance: Another important service we offer is tire rotation and balance. Without regular maintenance, your tires will become unevenly worn, leading to premature tire failure. Rotating and balancing your tires on a routine basis can extend their lifespan and keep your car running smoothly. The frequency of this service will depend on your driving habits, but we typically recommend having this service performed every 5,000 miles.
Brake service: Brakes are arguably your car's most important safety feature. Without them, you wouldn't be able to stop or slow down, which could lead to some serious accidents. That's why keeping your brakes in good working order is so important. Be sure to have them checked every 10,000 miles and replace them as soon as they start to show signs of wear.
Filter replacement: As your car's filters start to get clogged, they will become less effective at doing their job. This can lead to several issues, including decreased fuel economy and engine performance. To avoid these problems, be sure to replace your filters regularly. You may need to do this as often as every 5,000 miles to keep your car running at its best.
Engine diagnostics: If you notice your car isn't running as smoothly as it used to, it's most likely due to an issue with the engine. A professional engine diagnostic test is the best way to diagnose engine problems. Our team of certified mechanics can run a diagnostic test on your engine and pinpoint the exact source of the problem. We can then make the necessary repairs to get your car running like new again.
Why Sioux Falls Ford Is the Best Place To Service Your Ford
When it comes to finding a reputable place to service your Ford, Sioux Falls Ford is the best place in town. Our team of certified mechanics is knowledgeable and experienced in all things Ford, so you can rest assured that your car is in good hands. We use the latest technology and tools to diagnose and repair your vehicle, and we only use genuine Ford parts to keep your car running like new.
We also offer a wide range of services, from oil changes and tire rotations to more complex repairs. And to top it all off, we offer competitive pricing and a convenient location. So if you're looking for a top-notch Ford vehicle service center in the Sioux Falls area, look no further than Sioux Falls Ford.
Your car is a big investment, so taking care of it is important. That's why scheduled vehicle maintenance is so crucial. Sioux Falls Ford is your best bet when it comes to servicing your Ford. So if you're due for an oil change, tire rotation, brake service, filter replacement, or engine diagnostic test, give us a call or stop by our dealership. Can't make it the dealership? Sioux Falls Ford is proud to offer our Ford mobile service where we come to you! Or if you feel an upgrade is in order, browse our inventory of new and used cars. We're sure to have the perfect car for your needs. Thanks for choosing Sioux Falls Ford.