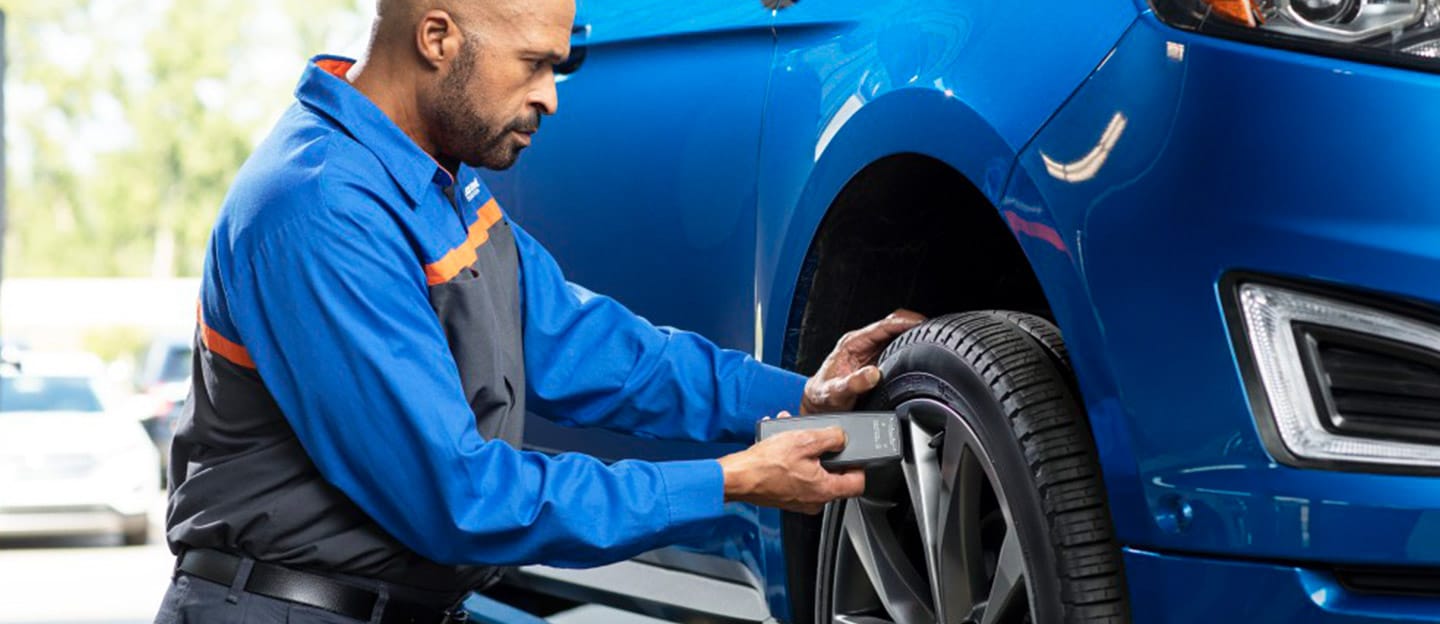 Quick Lane Tire and Auto Center in Sioux Falls, SD
Serving the greater Sioux Falls area
Our Quick Lane Tire and Auto Center in Sioux Falls, SD provides full-service care for your car, truck, or SUV at Sioux Falls Ford. Our factory-trained technicians perform expert service on your vehicle and at your convenience. You don't need an appointment, and we perform all services while you wait. In addition, we have convenient evening and weekend hours to make it even easier for you to have your vehicle serviced. If you can't come to the Quick Lane® Service Center then our Ford Mobile Service van will come to you (excludes oil changes).
In addition, we service all makes and models, not just the Ford brand. We use only OEM parts and repair practices, using trusted names such as Motorcraft® and OmnicraftTM. Our tires include name brands like Goodyear, Continental, Michelin, and more. 
You never need an appointment at Sioux Falls Ford Quick Lane Tire & Auto Center. Our factory-trained technicians will perform a comprehensive inspection every time you bring your vehicle in for service. Afterward, you'll receive an in-depth report on your vehicle's key systems, including any maintenance recommendations. In addition, your report will detail the cost of any services and the time necessary to perform them.
Car Tire Maintenance and Replacement
Whether you need routine maintenance like tire rotation, wheel alignment, or quick tire repair, or you need a whole new set of tires, Quick Lane Tire & Auto Center has you covered. We have the best prices on new tires, and our factory-trained technicians have the expertise to perform all tire-related services, fast and reasonably priced.
If you're purchasing a new set of tires, you can expect our technicians to install and properly inflate your new tires and balance them. In addition, we include the disposal fee and taxes in our prices. We stock an expansive inventory of name-brand tires, including Goodyear, Dunlop, Kelly, Michelin, BF Goodrich, Uniroyal, Hankook, Continental, General Tire, Pirelli, Bridgestone, Firestone, Yokohama, Toyo, Nitto, and Falken.
If we don't have your tire in stock, we can order it. We can have the tires here the same day and install them in many cases. And, as always, we offer our Low Price Tire Guarantee, so you'll never pay more for tires.

Oil Changes
Our oil change service includes high-quality OEM filters and the factory-recommended oil for your car, truck, or SUV. Changing your oil helps your engine run smoothly and efficiently, prolonging its life. You can opt for a simple oil and filter change or choose The Works package. The Works includes high-quality Motorcraft oil and filter, plus a tire rotation. In addition, we'll provide you with a multi-point vehicle inspection to ensure your vehicle runs in tip-top condition.
We encourage our customers to maintain their vehicles according to the manufacturer's recommended schedule. Therefore, when you bring your car in for an oil change, we'll review your maintenance records. If it's time for regular maintenance such as an engine coolant flush, spark plug replacement, brake service, or anything else, we'll alert you. In most cases, we can do these services while you wait without adding significant time to your visit.
Brake Service
Your vehicle's brakes play perhaps the most important role of any part of your car. To stop you safely, they must work properly. Healthy brakes start with the brake pads. Unfortunately, your brake pads were designed to wear out from the friction created during the braking process. Worn brake pads affect your ability to stop under control and in a timely fashion. 
Our technicians will inspect your brake pads for wear and recommend replacing them if necessary. In addition, our technicians will inspect your entire brake system. For example, they'll check your brake lines and master cylinder for leaks, and they'll inspect your calipers, discs, and drums for wear and ensure these complicated systems operate correctly.
Battery Service
A dead battery can leave you stranded. If you think you have a compromised battery, bring your car in and have one of our technicians service your car's battery. Our technician can confirm your battery holds a charge and delivers power to your electrical systems in minutes. Should they find your battery beginning to fail, they'll alert you and recommend a replacement. We stock a wide variety of batteries for all makes and models. We have the battery you need in stock in most instances and can replace it immediately.
A dead or failing battery can indicate a problem elsewhere, not with the battery at all. While we test your battery, we'll also test your electrical system, including your alternator, starter, and other electronics. For example, the alternator can often cause your battery to fail. The alternator takes the mechanical energy created by your engine and converts it back to chemical energy to recharge your battery. Should the alternator fail, your battery won't receive the charge it needs, eventually failing to start your car.
Engine Cooling System Service
Extreme temperatures can affect your car, whether it's the freezing temperatures of a South Dakota winter or the blazing heat of summer. If your engine's cooling system malfunctions, you could experience a breakdown causing damage to your engine. We recommend having your engine cooling system inspected twice each year, just before winter and summer. In this way, you can protect your engine from extreme weather.
Our technicians will inspect your radiator, hoses, and thermostat to ensure proper function. If necessary, we'll replace any worn or broken parts. We'll also flush your radiator if needed. We recommend you have your radiator flushed every 30,000 miles. However, you can check your owner's manual for your vehicle's exact interval.
Inspection of Belts and Hoses
Every vehicle has various belts and hoses that contribute to your vehicle's operation. Unfortunately, they are made of rubber and, over time, wear out. Fortunately, these parts don't cost much and take very little time to replace. When you bring your car to our Quick Lane, we'll inspect your belts and hoses during general maintenance. If we find one in need of repair, we'll alert you and, in most cases, can replace it immediately.
Stop In for Service Today
Sioux Falls Ford Quick Lane wants you to rely on us for all your service needs. We provide services for all makes and models and use only OEM parts on all of our repairs. If you need a simple oil change or have a more complex problem, you can stop by our Quick Lane at any time. If you can't come to our service center for some reason, we can send our Ford Mobile Service van to you (excludes oil changes).
605-361-0361
Quick Lane

---
Monday

7am-6pm

Tuesday

7am-6pm

Wednesday

7am-6pm

Thursday

7am-6pm

Friday

7am-6pm

Saturday

7:30am-4pm

Sunday

Closed