Auto Finance Center in Sioux Falls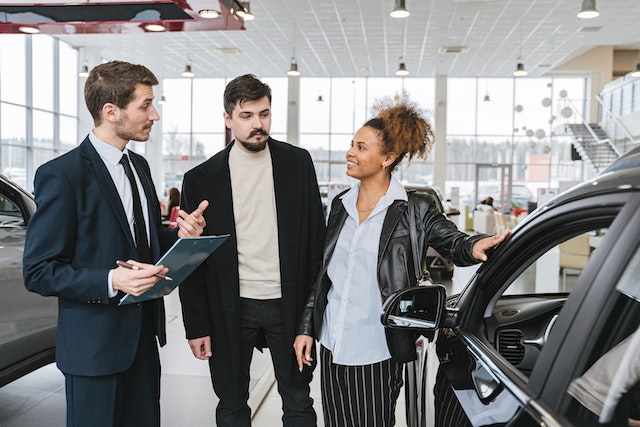 So, you've found the perfect car, truck, or SUV. It was love at first sight, and the test drive sealed the deal. Here at Sioux Falls Ford Lincoln, we understand your needs and are dedicated to seeing you drive your dream vehicle home to nearby cities such as Brandon and Mitchell, South Dakota, or Harrisburg and Luverne, Minnesota. That's why our finance center is staffed with trained experts to give you the best possible auto loan or lease to suit your budget. Get information on leasing near Mitchell here. We'll also give you the best value on your trade-in.
Can I Get Auto Financing on a Used Car?
Yes. Not only is our financial team experienced at crafting affordable car loans for pre-owned cars, trucks, and SUVs, Sioux Falls Ford Lincoln backs those vehicles for the long term. When it comes to our pre-owned vehicles, we are proud to offer our Nice Care package. Enjoy worry-free driving for the first 12 months or 12,000 miles after your purchase as we take care of all wear items on your vehicle. This package and the dedication of our finance center are all working toward fulfilling our dealership's brand promises of:
One low price; plain and simple; always.
A relaxed shopping experience.
Financial solutions for today and your future.
Real cash value for your trade-in.
The right vehicle at the right time.

Dependable service to meet your schedule.
Should I Lease or Finance a New Car?
Whether you lease or finance a new vehicle will depend on several factors. One of the main things to consider regarding a lease is how often you drive and how often you want to drive your new vehicle. If you don't put many miles on your vehicles and like to frequently drive the latest models, you may prefer a lease. On the other hand, if you know you drive a lot of miles in a year, or you want to own your vehicle for many years, an auto loan is probably your best option.
No matter which option you choose, the finance team at Sioux Falls Ford Lincoln has you covered. We can get you the terms you need for either financing or leasing the vehicle you love.
Can I Trade In a Car That Has Auto Financing?
Do you need to purchase a new car but still owe money on another car loan? You might be wondering whether you can trade in your old vehicle if you still owe money on it. This is something that happens all the time, so as long as you understand the process, trading in a vehicle that still has an auto loan on it is a great way to help you get into a new vehicle.
Our team can walk you through the entire trade-in process to ensure you understand exactly what your vehicle is worth and how it will affect the auto loan for your new car. Fill out our online credit application to get your auto loan started today. This will help the car buying experience go smoothly and quickly so you can get out on the road in your new vehicle sooner.
How Much Should I Put Down on a New Car?
The amount you should put toward a down payment on your new car will depend on the price of the vehicle and the terms of your auto financing. If you put a smaller amount down, you'll likely pay more interest in the long run. However, if you get excellent terms on your loan, you may not need a larger down payment to get budget-friendly monthly payments. Make sure you calculate the entire amount of your monthly payments, including things such as insurance and registration, to ensure you can comfortably pay the bill. Then, decide how much to put down.
What Factors Affect My Auto Loan?
A variety of factors will affect how your auto loan payments are calculated, such as:
Your credit score.
Age of vehicle.
Make and model of vehicle.
Your payment history.
Debt-to-income ratio.
Down payment amount.
With all this information, our finance team can go to several banks and get you the best terms for your loan. They'll consider all of this information to come up with your loan terms, including how long you can take to pay back the loan and the highest dollar amount you can borrow. If you want to trade in your vehicle, this will also affect the amount you'll need to finance a new vehicle loan. Use our online trade-in tool to find out how much your trade-in is worth and how it can help reduce your car loan amount.
How Will Sioux Falls Ford Get Me the Best Auto Financing?
When you need a new car, no matter whether you're looking on our new inventory page, or you're interested in something from our pre-owned inventory, you can count on Sioux Falls Ford Lincoln and our friendly finance department to get you the best auto loan terms for the vehicle you want to drive. From a brand-new Ford F-150 to a used Chevrolet sedan, you can find what you're looking for at Sioux Falls Ford Lincoln.
Start shopping for that perfect vehicle from the comfort of your own home, and then use the convenient online form to get the loan process started. When you're ready to take a test drive and finish up the buying process, come by the lot and talk to one of our representatives in person to get behind the wheel. You can drive your dream vehicle off the lot the same day.
Your Privacy Is Important to Us
Our dealership takes your privacy seriously and doesn't rent or sell your personal information to third parties without your consent. Read our privacy policy to learn more. If you need more information about auto financing, contact the finance department at Sioux Falls Ford Lincoln. We'd love to see you drive off in the perfect car, truck, or SUV.
Image by shkrabaanthony is licensed with Pexels