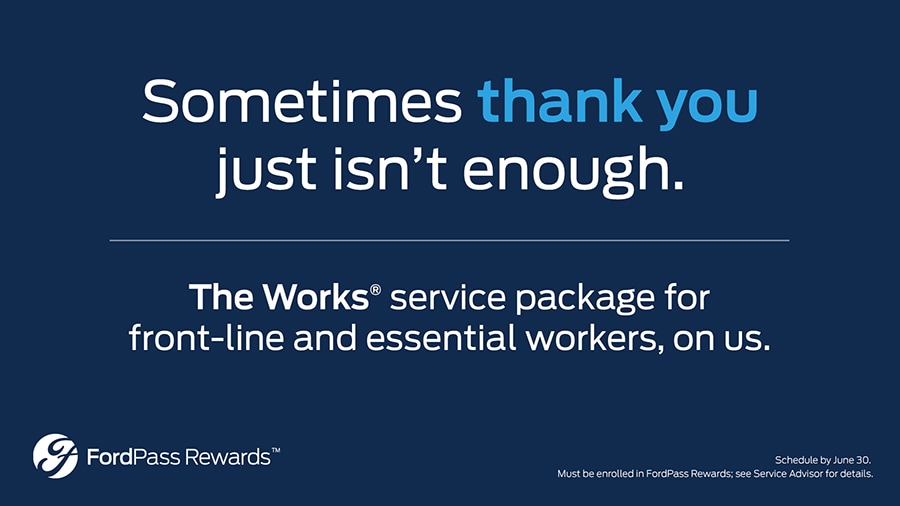 To extend gratitude to FordPass Rewards Members who are considered front-line or essential workers during the COVID-19 pandemic - FordPass Rewards is giving enough points to cover The Works Service Package!* Give us a call at 605-361-0361 for details and to schedule an appointment.
The Works includes a synthetic blend oil change, tire rotation & vehicle checkup.
Just show proof of employment (name tag, badge/ID, business card, pay stub or government letter stating essential worker status) to receive this offer.
A
vailable until June 30, 2020.
You must be a current or new FordPass Rewards member to receive this offer.** Not a member?
---
QUALIFYING JOB CATEGORIES:
Healthcare
Including patient care, public health, medical equipment and supplies workers; hospital and lab employees; and
researchers, caregivers and therapists.
First Responders
Police officers, firefighters, paramedics, EMTs and the systems that support them.
Food and Agriculture
Employees at grocery and convenience stores, restaurants, and food processing and warehouses, as well as food
service and food manufacturing workers and farmers.
Energy
Those in the maintenance and distribution of electricity, petroleum, and natural or propane gas.
Water and Sanitation
All employees needed to manage and maintain drinking water as well as drainage infrastructure.
Transportation and Logistics
Those supporting transportation, including dispatchers, drivers, and maintenance and repair technicians.
Public Workers
All who support the operation and maintenance of essential public works facilities (roads, bridges, traffic signals and
systems infrastructure)
Manufacturing
All employees responsible for producing materials and products required for medical supply chains and transportation.
Communications/IT
Those involved in the installation, distribution and maintenance of communication infrastructures, and IT employees
who operate and support command centers.
Government Operations
Critical government workers, as defined by the employer, including elections personnel, building employees, security
employees, trade officials, weather forecasters, customs workers and educators.
Financial Services
All employees needed to administer and maintain systems for processing financial transactions and services at
banking and lending institutions.
Hazardous Materials
Employees at nuclear facilities who manage medical waste and waste from pharmaceuticals, laboratories processing
test kits, and medical material production. Also, those responsible for the cleanup of waste and the maintenance of
digital systems infrastructure supporting hazardous materials management operations.
Defense
Those who support, manage and maintain the essential services required to meet national security commitments to
the federal government and the U.S. military.
Chemical Management
All employees who support chemical and industrial gas supply chains at manufacturing plants, labs and distribution
facilities producing hand sanitizers, food/food additives, pharmaceuticals and paper products
---
*Up to six quarts of Motorcraft® oil and Motorcraft oil filter. Motorcraft® is a registered trademark of Ford Motor Company. See participating U.S. dealership for exclusions and details.
**Must be enrolled in FordPass Rewards. Member must complete The Works or claim offer through a participating dealership or the Rewards Center by 6/30/2020. Offer is exclusively for members employed as essential workers. Contact the Rewards Center or your dealer to determine eligibility. Proof of employment must be provided when claiming offer. Offer is nontransferable and may only be used once. 11,000 (gas) and 20,000 (diesel) FordPass Rewards Points will be deposited into member account to cover the cost of The Works. Ford Motor Company reserves the right to modify the terms of this offer at any time. For additional program information, please visit FordPassRewards.com or contact the Rewards Center at 833-385-0516. See a participating U.S. dealership for details.