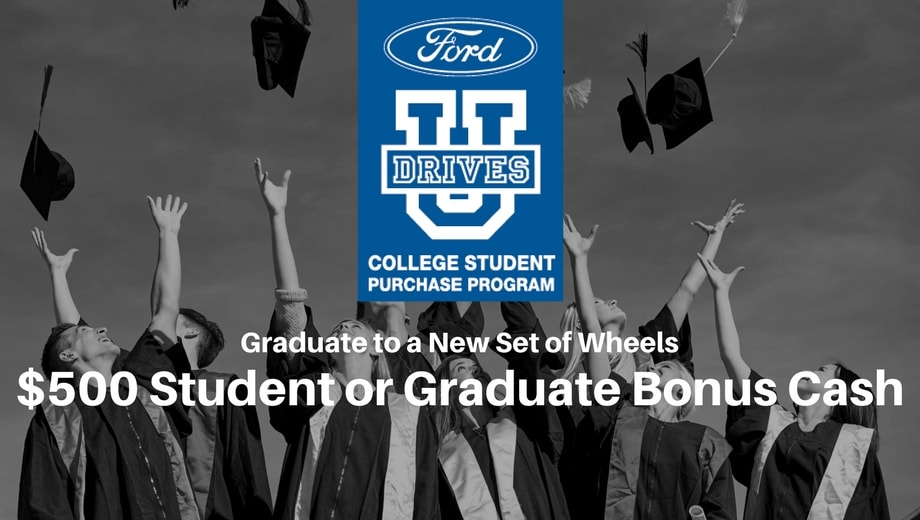 We know college rent, tuition and books are expensive, and that making every dollar count is a well-developed skill that every student learns.  That's why Ford has developed Ford Drives U, the College Student Purchase Program
 that offers college students and recent graduates a $500 incentive and great rates through Ford Credit when you purchase or lease a new Ford vehicle in Sioux Falls
.  It's an exclusive opportunity to get into a new Ford whether you're celebrating your graduation or in the middle of your college years.
Freshmen
Sophomores
Juniors
Seniors 
And a few years beyond graduation!

  
Current full-time student OR half-time at an accredited Four-Year College, University, Junior College, Community College or Trade School. (Student must be currently enrolled in a minimum of 2 classes or an equivalent of 6 credit hours and is considered by the schools guidelines to be in "good academic standing").

 
- OR -
Recent college graduates within 3 years from their date of graduation.
- OR -
High school seniors or recent high school graduates with letter of intent to attend a qualifying university.
- OR- 
Student is currently enrolled in an accredited Graduate School program.

         *NOTE: One-course completion certificates, on-the-job training courses and adult education courses do not qualify.

Model year 2019 / 2020 / 2021 vehicles are eligible. See Sioux Falls Ford Lincoln for complete details.
Program dates:  January 3, 2020 through January 4, 2021.

PROOF OF STUDENT ELIGIBILITY OPTIONS
Copy of current class schedule
Copy of term grade report
Letter from the college/university/trade school registrar's office stating student is currently enrolled and in good academic standing
Between terms: proof of prior or future term enrollments
Letters of intent for incoming college freshmen - valid for no more than 6 months
Copy of final transcript confirming graduation date an type of degree earned
Letter from the college/university/trade school register's office stating conferred graduation date and type of degree earned
Make an Inquiry