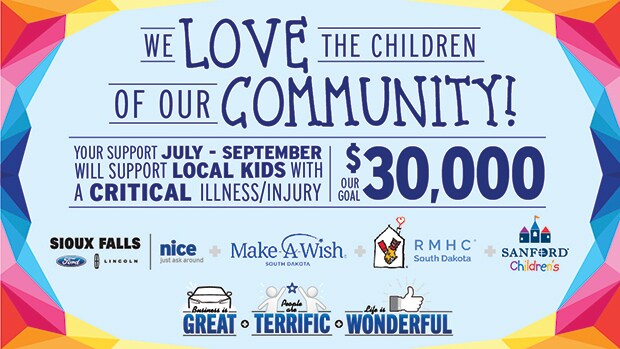 At Sioux Falls Ford Lincoln, we desire more than just satisfied customers, but a commitment to the community. With every dealership goal we achieve, we also have the ability to help our community.

We love the children in our community!
Today, and always, we want to be a business that supports our local children. A person's a person, no matter how small, and we want to help raise up the next generation so they can be strong and healthy!
Your support of our dealership July through September, 2019, allows us to support our very own children with critical illnesses and/or injuries.
How we will do this
Every customer who comes through sales, service, parts or ABRA bodyshop is a big part of this great effort. A portion of every sale in every dealership department will go towards our donation goal.
Our hope is to raise a total of at least $30,000 during these next three months.

We are splitting the donations between three wonderful organizations that work with our local children and have longstanding reputations and histories:



It's only because of your support for our business that we are able to give back to the community – thank you!
Learn more about the three organizations and how they help children
Make A Wish – Together, we create life-changing wishes for children with critical illnesses.

Wishes are more than just a nice thing. And they are far more than gifts, or singular events in time. Wishes impact everyone involved - wish kids, volunteers, donors, sponsors, medical professionals and communities. The impact varies. For wish kids, just the act of making their wish come true can give them the courage to comply with their medical treatments. Parents might finally feel like they can be optimistic. And still others might realize all they have to offer the world through volunteer work or philanthropy.
Every 34 minutes Make-A-Wish grants the wish of a child diagnosed with a critical illness in the United States and its territories. We believe that a wish experience can be a game-changer. This one belief guides us in everything we do. It inspires us to grant wishes that change the lives of the kids we serve.
Ronald McDonald - Ronald McDonald House Charities of South Dakota provides a home away from home to the families of sick or injured children near a hospital where their child is receiving care, serving families across South Dakota and the upper Midwest.

Our mission is to create, find and support programs that directly improve the health and wellbeing of children, with a goal to provide a place where families can be together.
We believe that when you change a child's life, you change a family, which can change a community, and ultimately the world.
We strive to be a part of that change and the solution by providing programs that strengthen families during their most difficult and challenging times. We extend our reach and impact by leveraging our experience and strong relationships with local communities to continually provide our services to the families who most need us.
Sanford Children's – Vibrant, colorful world where sick and injured children find inspiration, imagination and play to be as important to healing as our leading technology, breakthrough research and advanced medicine.

At Sanford Children's, we deliver care that's tailored to children and stays focused on your family.
•

100% of funds raised stay local and benefit children and families in need.
•

No family is ever turned away, regardless of their ability to pay.
•

Funding for programs – including Child Life, Social Work, Hospital School Program, Back to School, childhood camps and many more