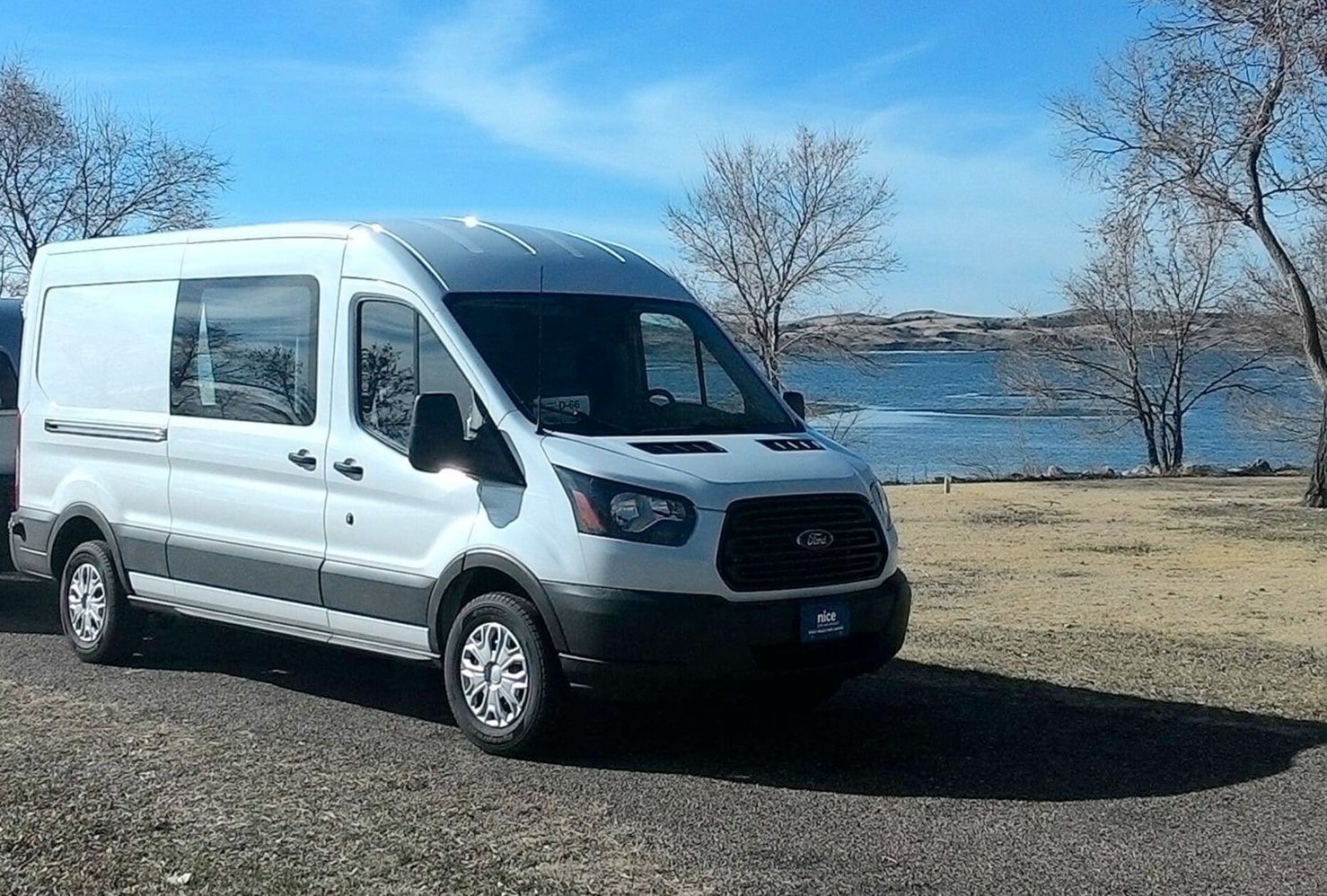 Residing in South Dakota, we know the spacious areas and lovely views that camping in the Midwest has to offer. We look forward to the adventures of road trips, bonfires and outdoor camping, but not Sara Riley Mattson. Sara wasn't even a fan of driving and would choose big city life any day, but that all changed the day her life started changing, specifically in her health.
Sara started suffering from mold toxicity and biotoxin illness. Some molds are dangerous and some aren't. And then there is a third option where they are dangerous, but only to people like Sara, who have a harder time clearing mold toxins out of their systems and become super sensitized to mold toxins.
This has more far-reaching symptoms than most people realize. Small exposures to moldy places could cause tremors, asthma attacks, vertigo, rashes, extreme exhaustion, ADD, depression, cysts, neuropathy and migraines. Plus, Sara became allergic to dozens of foods that never used to be an issue. Sara realized that she needed to avoid mold and living in a bigger city was no longer an option, and even small town life was fading away. It was time for her to head into nature.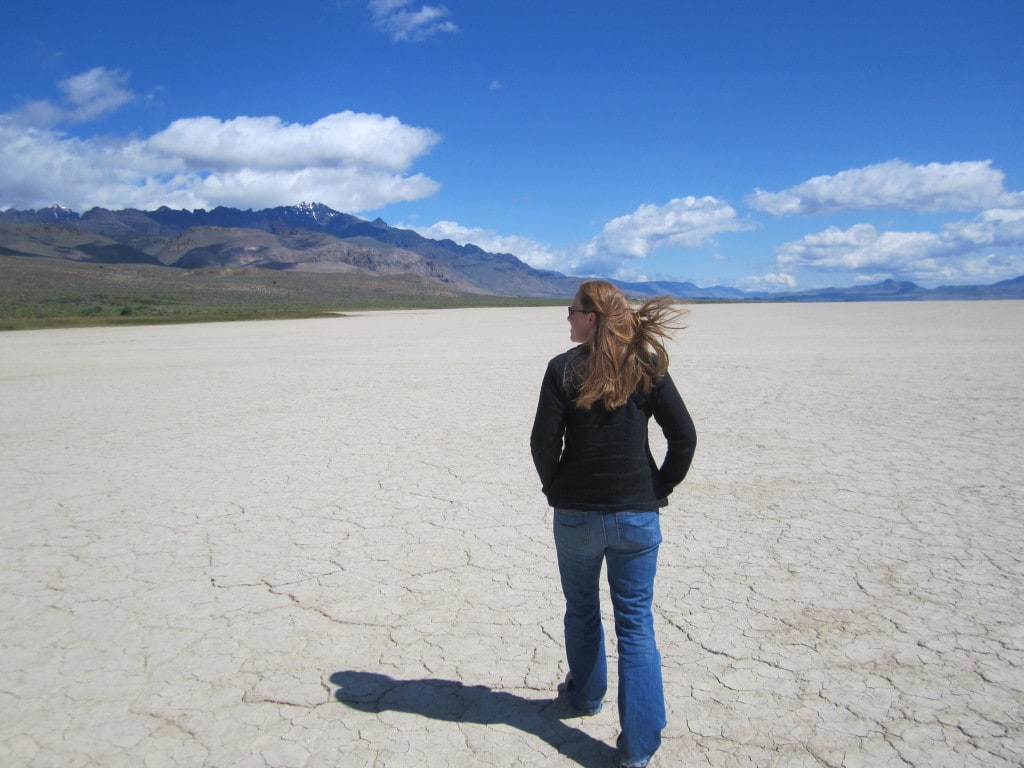 | | |
| --- | --- |
| | It was in Custer State Park where Sara started to realize that she needed to feel safe, and living in a home made of drywall wasn't going to provide that. Camping was the way Sara and her husband decided to go. Choosing an RV held a few issues including how toxic they can be when first made and they can have a lot of mold, just like houses. That is where the idea to convert a cargo van into a mold-resistant, low-toxicity camper came from. |
Sara found her answer in the Ford Transit from Sioux Falls Ford Lincoln.
The Transit held a few benefits that were important. First and foremost, it felt great to drive! It also came in a non-diesel engine option and it was a bit boxier to help with conversion. Plus, it helped that Ford dealerships are numerous and can be found anywhere when traveling across the country.
Sara's preferred choice was a Ford Transit Mid Roof that she found in inventory with rear windows and a window above the sliding door that makes it feel comfortable and really helps bring in some natural lighting.
Not only is finding the right Transit important, but Sara mentions that which dealership the van is bought from matters too. Which city a van is located in (where it's been sitting) affects how well the van will help with health issues. Just like Sara suffered more living in a big city, a van will also take in the city environment and make it less clean. Sioux Falls, SD is a great place to buy a Ford Transit because the environment is more open and clean. She has mentioned that people ask her where they should buy their van; including inquiries from Florida and Utah. Sara directs them to Sioux Falls Ford Lincoln for their Ford Transit shopping and purchase.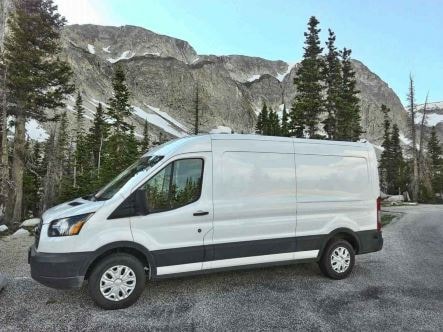 Conversion Process
Insulation
There were a few steps that were important to make the Ford Transit into a comfortable home for Sara and her husband. They did the insulation first, and especially concentrated on the roof since snow would gather there and it would also help to soundproof.

<< Insulation taped into place. Behind this layer is a second layer which was cut to fit the contours of the van.
To choose a finish for the ceiling that would not collect moisture, Sara selected thermoplastic ceiling tiles that looked like pressed tin.



Metal was use for any drawers, cabinets and shelving.

Nothing is more resistant to mold than metal, and Sara says a blow torch can always be used to clear them of mold toxins if the need ever came.

For shelving, Sara made her own Metro Rack out of the individual pieces found at the store. And since looking at a bunch of plastic bins is not all that pleasing, she added some beautiful butterflies!

The whole conversion process took about a month, and these are just a few parts of the whole project. We can easily understand that when it comes to making a van into a home, there is so much more involved to make it feel safe and comfortable!



The Final Product
The complete conversion of the Transit is beautiful and has lived up to its potential. Sara has found a whole different life since her big city days. She has grown more fond of the nomadic lifestyle the van provides and the adventures it brings them, including seeing all the wonderful sights and wildlife.
| | |
| --- | --- |
| | |
| A wild burro in Custer State Park, SD | Emery County, Utah |
Sara says about her experiences:
"My van has taken me to some of the most beautiful places in North America, and, at least since I was a child, it is the only place where I fall asleep easily and sleep soundly all night long. It is less a consolation prize and more a strange and completely unexpected answer to a very long list of health problems from which I have been wishing for relief nearly all of my life.

It has provided me with the most spectacular views and a sense of connection to nature I have not felt since I was eleven years old running through the woods every day after school. In a sense, designing my van was an extension of the project nearly all of us were compelled to attempt as children. My very own fort."


| | |
| --- | --- |
| The Missouri River in South Dakota | The Ruby Mountains of Nevada |



While converting the van, Sara took great notes and pictures in the hope that it would help others. She has since wrote a book about her clever conversion process titled Camp Like A Girl: Finding Health and Wellness in Nature. A Cargo Van Conversion Story which is available on Amazon.

It has already helped many people who have questions of their own about mold avoidance. She has another book titled Migraine: Finding My Own Way Out that describes her 67-day migraine and how she pieced together what was causing her illness.

Sara is also a musician and has an album titled Envy of the Agile Heart that reveals how she felt during her experiences avoiding mold. She states in one of her blogs, I've Never Wanted to Be a Warrior, that it is more helpful for her to think of her illness as a journey, and that is exactly what Sara has been on - an intense journey. A journey of surprises, learning, creativity and ultimately, many adventures. Her decision to seek a solution for herself when others have failed and to keep reaching for all that life has to offer is an inspiration to all of us!

Learn more about Sara Riley Mattson: sararileymattson.com