As South Dakota's most populous city, Sioux Falls is also the state's shopping capital. You'll find all manner of retailers in Queen City, including great furniture stores. If you're after furniture that's fit for royalty, you should check out these fantastic local furniture stores.
Montgomery's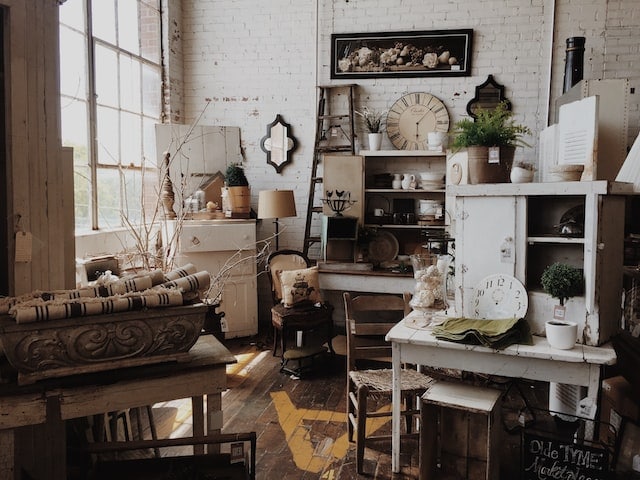 Montgomery's is a small South Dakota furniture chain with four locations, including a Sioux Falls store. This store focuses on modern furniture for every room in your home, complemented by blinds, flooring, and lighting. On-site interior designers can help you pull your décor together. Their advice is free; you'll simply pay for any items you purchase. Montgomery's also has a custom workroom manned by experienced seamstresses willing to create any unique window treatment, bedding, and other items you want for your home.
Location: 1725 W. 41st St.
Hours: 9 a.m. to 7 p.m. Monday through Friday, 9 a.m. to 5 p.m. Saturday, midday to 4 p.m. Sunday.
Dreamer's Outlet
Dreamer's Outlet is a family-owned business delivering old-fashioned service with a smile. The friendly team will happily offer you advice and help you move your purchases to your vehicle. Satisfied customers say the helpful, honest employees set Dreamer's Outlet apart from larger chain stores that use high-pressure sales techniques. The kids' zone also keeps your little ones entertained while you're shopping for bedding, couches, and more. Regular promotions, including no tax sales, help you to save even more.
Location: 518 N. Kiwanis Ave.
Hours: 1 p.m. to 6 p.m. Monday through Friday, 11 a.m. to 6 p.m. Saturday.
Steinberg's Furniture
Steinberg's Furniture is a local independent furniture store specializing in hand-built log furniture. Its exquisite pieces made from pine, aspen, white cedar, and hickory are sure to turn heads. Choose a one-of-a-kind piece from the showroom floor or commission the furniture of your dreams. With more than 2,000 rugs on show, Steinberg's Furniture has more rugs than any other outlet in the five-state area. You'll also find leather and fabric seating and wall décor on display. Steinberg's Furniture has been a family-owned and operated business since opening its doors in 2004.
Location: 1621 W. 12th St.
Hours: 10 a.m. to 6 p.m. Monday through Friday, 10 a.m. to 5 p.m. Saturday.
Simply Perfect
In 2006, local interior designer Penny Klinedinst opened a small 800-square-foot retail store to complement her design service. Over the years, her business has grown to the 8,000-square-foot store now known as Simply Perfect. While the store is much bigger today, one thing that hasn't changed is the owner's commitment to helping her customers make their interior spaces beautiful. Furniture for every room in the home is thoughtfully selected. Ms. Klinedinst also offers her interior design expertise either in-store or from the comfort of your own home.
Location: 401 E. 8th St. Ste 108.
Hours: 10 a.m. to 6 p.m. Monday through Friday, 10 a.m. to 5 p.m. Saturday, midday to 4 p.m. Sunday.
Spencer Furniture & Floors
An independent third-generation family-owned business, Spencer Furniture & Floors specializes in living room and bedroom furniture. Operating for 76 years, the team has built strong connections with many furniture suppliers you won't find anywhere else in Sioux Falls. If you spot something you like online that isn't in stock, the friendly staff will happily order it in for you. They can also custom design pieces using different colors or fabrics to suit your existing décor. Take home any item you like or take advantage of local delivery within an 80-mile radius or shipping outside of this zone.
Location: 3901 S. Duluth Ave.
Hours: 9 a.m. to 7 p.m. Monday and Friday, 9 a.m. to 5:30 p.m. Tuesday through Thursday, 9 a.m. to 5 p.m. Saturday, 1 p.m. to 4 p.m. Sunday, except during summer.
Junk in the Trunk
New furniture doesn't suit everyone's budget or design aesthetic. If you prefer preloved goods, head to Junk in the Trunk. Despite its name, Junk in the Trunk offers high-quality preloved pieces, including couches, cabinets, and tables. Most of the pieces have been lovingly restored by the store's husband and wife owners, Chris and Renee Johnson. Quirky art and décor complement these vintage pieces. Junk in the Trunk also has a small selection of new retro-style furniture that perfectly match the store's older pieces.
Location: 1918 W. 41st St.
Hours: 10 a.m. to 6 p.m. Tuesday through Saturday, midday to 4 p.m.
Resale Living
Resale Living is another Sioux Falls furniture store specializing in quality used furniture. The owners handpick high-quality pieces, which they clean and restore as required before they reach the Resale Living showroom. Their attention to detail ensures you can always find quality pieces on show at a fraction of their original cost. The collection regularly changes, but you'll usually find couches, dining room suites, office furniture, and storage items spread across the 4,000-square-foot space. If you need help choosing your favorite, the friendly employees are always on hand to offer advice.
Location: 3126 S. Minnesota Ave.
Hours: 10 a.m. to 6 p.m. Monday through Friday, 10 a.m. to 5 p.m. Saturday, midday to 5 p.m. Sunday.
Consignor's Designs
While you're shopping for second-hand furniture on Minnesota Avenue, make sure you stop by Consignor's Designs. Opening in 2006, it's Sioux Falls' original high-end consignment furniture and home décor store. Most pieces are only lightly used and kept in excellent condition by families downsizing, relocating, or redecorating. Consignor's Designs favors pieces with a modern style that suit contemporary homes. New pieces arrive daily, so it's worth checking back often for that perfect item to complete your home. Ask about Consignor's Designs delivery service if you need help getting your purchases home.
Location: 2117 S. Minnesota Ave.
Hours: 10 a.m. to 5 p.m. Tuesday through Friday, midday to 5 p.m. Saturday.
Whether you're decorating your first place or your existing furniture is looking a little long in the tooth, these excellent local furniture stores have you covered. Have we missed your favorite furniture store? Be sure to contact our friendly team at Sioux Falls Ford or visit our local dealership to tell us all about it.

White wooden cabinet near table inside room photo by Jazmin Quaynor is licensed with Unsplash License