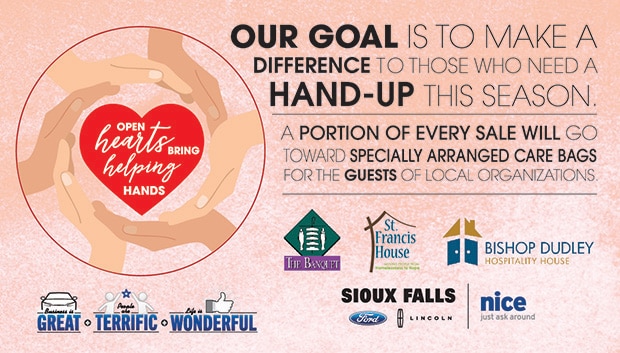 At Sioux Falls Ford Lincoln, we desire more than just satisfied customers, but a commitment to the community. With every dealership goal we achieve, we also have the ability to help our community.
From open hearts to helping hands
At Sioux Falls Ford Lincoln, our goal is to make a difference for those who need a hand-up this season. Every NICE experience at Sioux Falls Ford Lincoln turns into a helping hand to reach the vulnerable in our community.
A portion of every sale will go towards specially arranged care bags to guests of The Banquet, St. Francis House and Bishop Dudley Hospitality House.

These bags are meant to offer help in the most practical way - by providing necessary items many of us take for granted. Items include toothbrush/toothpaste, socks, hats, nail clippers, combs, deodorant, snacks and more.
How we will do this
Every customer who comes through sales, service, parts or ABRA bodyshop is a big part of this great effort. A portion of every sale in every dealership department now through the end of the year will go towards making these care bags.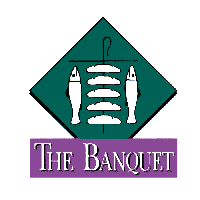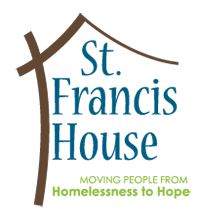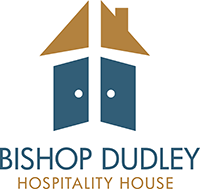 It's only because of your support for our business that we are able to give back to the community – thank you!

Learn more about the three organizations and how they help children
The Mission of The Banquet is to provide a welcoming place where people can gather, receive nourishment and experience love in action, and to assist volunteers in providing food and fellowship to those served through the ministry of The Banquet. We will be vigilant in identifying and fulfilling the needs of the hungry in our diverse community and in encouraging the health and wellness of our guests.
The Banquet meal ministry was founded in 1985 starting with just one meal per week. We now serve 13 meals per week at two locations to the most vulnerable people in our community. The Banquet is a volunteer-based ministry, which means our meals are paid for, prepared by, and served by volunteer groups who come from Sioux Falls and the surrounding area. All are welcome to join in food and fellowship at The Banquet.
Bishop Dudley Hospitality House
Provide open doors to safety, wellness, and dignity for our city's homeless.
The Bishop Dudley Hospitality House in Sioux Falls, South Dakota offers daytime and overnight emergency shelter for the homeless and vulnerable. For overnight services there is room for 80 men, 20 women and seven families at the House. A wide range of other social service providers offer additional essential services aimed at providing a hand up to those in need.
The most recent statistics indicate that more than 600 men, women and children in Sioux Falls are without a home. The Bishop Dudley Hospitality House offers a safe, secure and warm place to start the road back to a more stable, long-term way of living.
Moving People from Homelessness to Hope
The St. Francis House is an ecumenical emergency shelter for the homeless offering hospitality, fellowship, and support to those who have nowhere to sleep. We provide a warm bed, shower, laundry, food, and other referrals.
We provide shelter for up to 40 men, 9 women and 9 families on any given night. Also, offering special services for reaching long term goals including employment, independent housing, and addiction recovery.
Those served at the St. Francis House include
•

Those coming from hospital treatment centers and prisons
•

Families looking to relocate
•

Anyone looking for a chance to start over
Guests have ranged from newborn infants to the elderly. Open 24 hours a day, seven days a week, including holidays. The St. Francis House depends entirely on private donations for its operating funds.