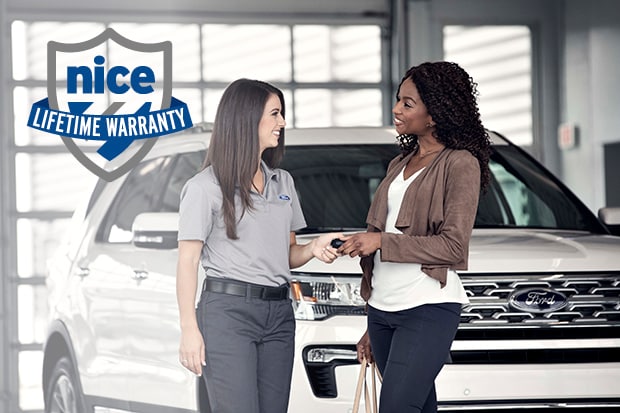 Drive with confidence that your repair costs are covered.
New Ford and Lincoln vehicles now receive our Nice Lifetime Powertrain Warranty.* Unlimited time. Unlimited mileage. And no cost to you.
With how vehicles are built today, repairs can be costly and unpredictable. Even one mechanical breakdown could result in thousands of dollars in unplanned expenses. Our Nice Lifetime Powertrain Warranty can help protect your future finances for as long as you own your vehicle.
This warranty provides coverage for the major component groups of the powertrain for as long as you own the vehicle. Coverage for the engine, transmission and drivetrain assembly.
There is no cost to you for our Nice Lifetime Powertrain Warranty. It is free and included on every eligible vehicle sold at our dealership.
How Long Does it Really Last?
Our Nice Lifetime Powertrain Warranty lasts as long as you own your vehicle.
Simply maintain your vehicle to the manufacturer's recommendations and the warranty will pay for covered claims. For a single claim, it will pay up to the fair market value of your vehicle immediately before the covered mechanical failure; the total paid for all covered claims can be up to the vehicle's purchase price. Our dealership is committed to providing both superior products and service to our customers. Giving you Nice Lifetime Powertrain Warranty is one way of reinforcing our commitment!
Visit us today to learn more about how a lifetime of protection can benefit you!
What Exactly Does the Warranty Cover?
The following are the covered parts:
Engine: Cylinder block, cylinder head(s), rotor housings and their internal parts, intake manifold, exhaust manifold(s), timing gears, timing chain(s) or belt(s), timing chain or belt tensioner(s) and timing chain or belt cover, valve cover(s), flywheel or flexplate, ring gear, harmonic balancer, oil pump, vacuum pump, water pump, oil pan, turbocharger or supercharger housing(s) and their internal parts, waste gate, intercooler, engine mounts and EGR valve.
Transmission/Transfer Case/All-Wheel Drive Assembly: Transmission case, transaxle case, transfer case and their internal parts, torque converter, vacuum modulator, cooler and metal cooler lines, transmission mounts, slave cylinder and master cylinder of a manual transmission clutch assembly.
Drivetrain Assembly: Final drive and axle housing(s) and their internal parts, axle shafts and bearings, universal and constant velocity joints, drive shaft(s), center bearings and drive shaft yokes, four-wheel-drive engagement actuator/motor, traction control linkage, solenoids, control processor and sensors, and 4x4 locking hub. Front-wheel drive and rear-wheel drive.

* Limited Nice Lifetime Powertrain Warranty available on most new Ford and Lincoln models. Excludes business, fleet, Chassis Cab and leased vehicles. See dealer for current warranty terms, conditions, limitations and exclusions.