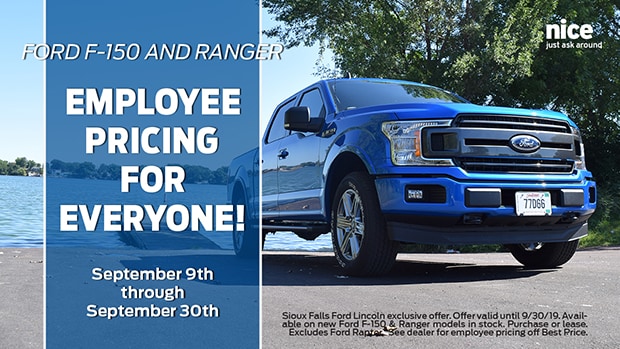 A Sioux Falls Ford Lincoln Exclusive Offer
Employee pricing for everyone! For a short time only, we are passing along our employee savings on a new Ford F-150 or Ranger to our customers.

Online pricing and lot price tags are not changing! Come in and see the savings on each individual model that are on top of our Best Price listed!

It's the right time to get into a new Ford truck. From long-time Ford fans to first-time test drivers – everyone saves on top of our Best Price.
This program only goes until September 30th, 2019.

Available on the purchase or lease of a new Ford F-150 or Ranger model.*

Questions? Don't let that stop you, stop by and ask!

* Sioux Falls Ford Lincoln exclusive offer. Offer valid until 9/30/19. Available on new Ford F-150 and Ranger models in stock. Purchase or lease. Excludes Ford Raptor. See dealer for employee pricing off Best Price.