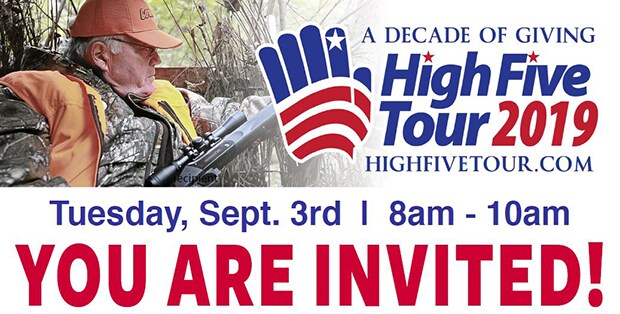 Come see and "SIGN A MESSAGE" on the famous High Five Tour Ford F-150 Raptor, thanking our country's wounded heroes.

A decade of giving back to Purple Heart veterans continues. The 10th annual Wounded Warriors Family Support High Five Tour will visit us at Sioux Falls Ford Lincoln on Tuesday September 3rd, 8am – 10am.
During the tour, Wounded Warriors Family Support's mobility-equipped Ford F-150 Raptor – wrapped in a patriotic design – travels throughout the United States thanking our country's military families.
This is a great opportunity for Sioux Falls to show our appreciation for our veterans. It is extra special this year because the recipient of this Ford Raptor is a local citizen of Sioux Falls, Jack Gill.

Jack is a true American hero and has sacrificed a lot for our freedom. It will be the first time he will see the patriotically wrapped, mobility equipped Ford Raptor. We are excited to have an opportunity to meet Jack and share what a cool vehicle he will be receiving on Veteran's Day, November 11, 2019. We are sure he also be touched by the 1000's of signatures and messages on the patriotic wrap in his honor from citizens across the country thanking him for his service.
We will have the Raptor opened up to display the mobility equipment.
Attending will also be Col. John Folsom, Wounded Warriors Family Support Founder. WWFS has earned Charity Navigator's highest four-star rating year after year. Thank you for your support of WWFS, our combat wounded veterans and families.
Learn more at HighFiveTour.com