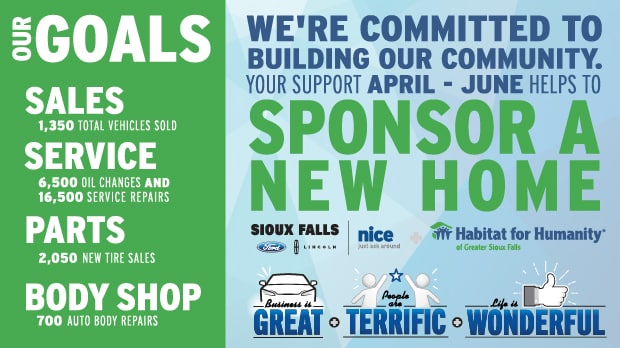 At Sioux Falls Ford Lincoln, we desire more than just satisfied customers, but a commitment to the community. With every dealership goal we achieve, we also have the ability to help our community.

Your support of our dealership April through June, 2019, allows us to sponsor one of the next homes to be built by Habitat for Humanity!
Our goals to reach the final goal = a sponsored home!
1,350 total vehicles sold
All-time world record of 6,500 oil changes

Provide service repairs for 16,500 customers
Provide auto body repairs for 700 customers
It's only because of your support for our business that we are able to give back to the community, and be ready to build – thank you!

HABITAT FOR HUMANITY of Greater Sioux Falls
Vision: A world where everyone has a decent place to live.
Habitat for Humanity of Greater Sioux Falls is part of a global, nonprofit housing organization operated on Christian principles that seeks to put God's love into action by building homes, communities and hope. Habitat for Humanity of Greater Sioux Falls is dedicated to eliminating substandard housing locally and worldwide through constructing, rehabilitating and preserving homes; by advocating for fair and just housing policies; and by providing training and access to resources to help families improve their shelter conditions. Habitat for Humanity was founded on the conviction that every man, woman and child should have an affordable place to live in dignity and safety, and that decent shelter in decent communities should be a matter of conscience and action for all.
Globally, Habitat for Humanity has increased access to improved shelter through products and services for more than 5 million people worldwide.
WHY HOUSING MATTERS
Book Learning
Children raised in a Habitat home are twice as likely to go to college.

57% of adults in Habitat households report furthering their education.

Low income children perform at a lower level in school. A recent study has revealed that they actually have a smaller brain surface area. Learn more in Scientific American.

There were 438 homeless students in 220 families in the SF School District, as of October 24, 2017. By definition, they move around a lot, their living situations aren't safe, and/or there are three kids to a bedroom, for example.
If you've got your health, you've got everything (they say)
Children of home owners make fewer visits to the emergency room for routine health problems.4

Nearly 50% of SF Public School children qualify for free or reduced-price meals.

29.4% of individuals with disabilities live below the poverty line in SD.
Work to get ahead – Or chase your tail
Habitat home owners have more disposable income after moving into their Habitat home.

To afford a two-bedroom apartment, a person needs to earn $15/hour.
Come on over!
135% increase in families inviting people to their homes. It's the greatest indicator of dignity in home ownership. The "sleepover test!" as dubbed by the director of Habitat for Humanity Toronto.
Dollars and Cents
Housing is considered affordable when it is about 30% of a family's or person's income.

SD poverty guidelines: $12,060 for an individual; $24,600 for a family of four.

$76,800 is the 2017 area median income in SF.