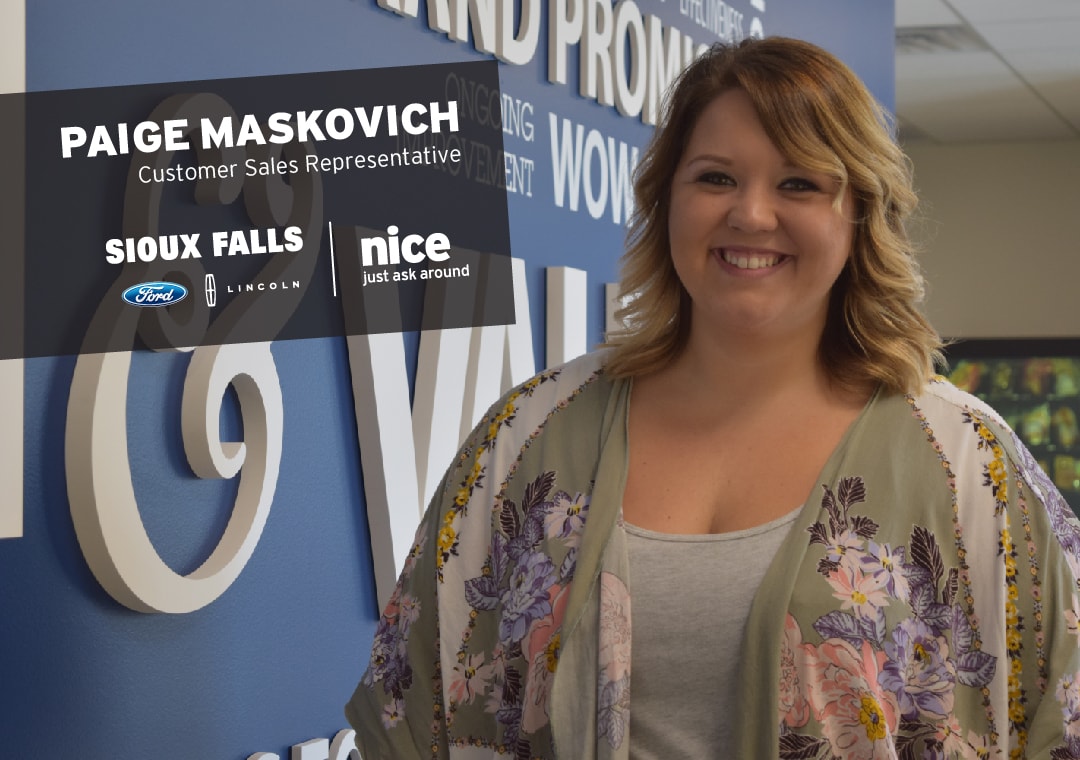 Welcome to another edition of #MeetUsMonday here at Sioux Falls Ford Lincoln!
Today, we'd like to introduce you to Paige Maskovich, Customers Sales Representative at Sioux Falls Ford Lincoln.

Have you interacted with us recently? We'd love to hear from you in the comments!
Question: How long have you worked here at Sioux Falls Ford Lincoln and in what department do you work?

Paige: It will be 2 years in August, and I work in the Business Development Center (BDC).
Q: What is the BDC and what is its goal?

P: The main purpose of the BDC on the sales side is to follow up with customers who inquire about a vehicle online or over the phone. We also help set up times for customers to come in and meet with our sales managers. Most customers will interact with us in the BDC when contacting Sioux Falls Ford Lincoln.
Q: How many calls do you take and receive on a typical day?

P: I would say that each person handles about 70-100 calls on a single day.
Q: What makes Sioux Falls Ford Lincoln so nice?

P: I really like that Sioux Falls Ford Lincoln doesn't only care for the growth of the business, but also for bettering the city of Sioux Falls. For example, our Nice Days where our employees go out and do nice things all around the community.
Q: What do you drive?

P: I drive a
2018 Ford Fusion
. I like how it's easy to have all my music available – I'm a big music person and having the Fusion compatible with my phone is important.
Q: What is a hobby of yours? Something that interests you in your free time?

P: I really like music, like I mentioned, so I go to a lot of concerts. Thomas Rhett is my favorite singer. I also travel; I enjoy Texas and I go to the cities quite a lot.