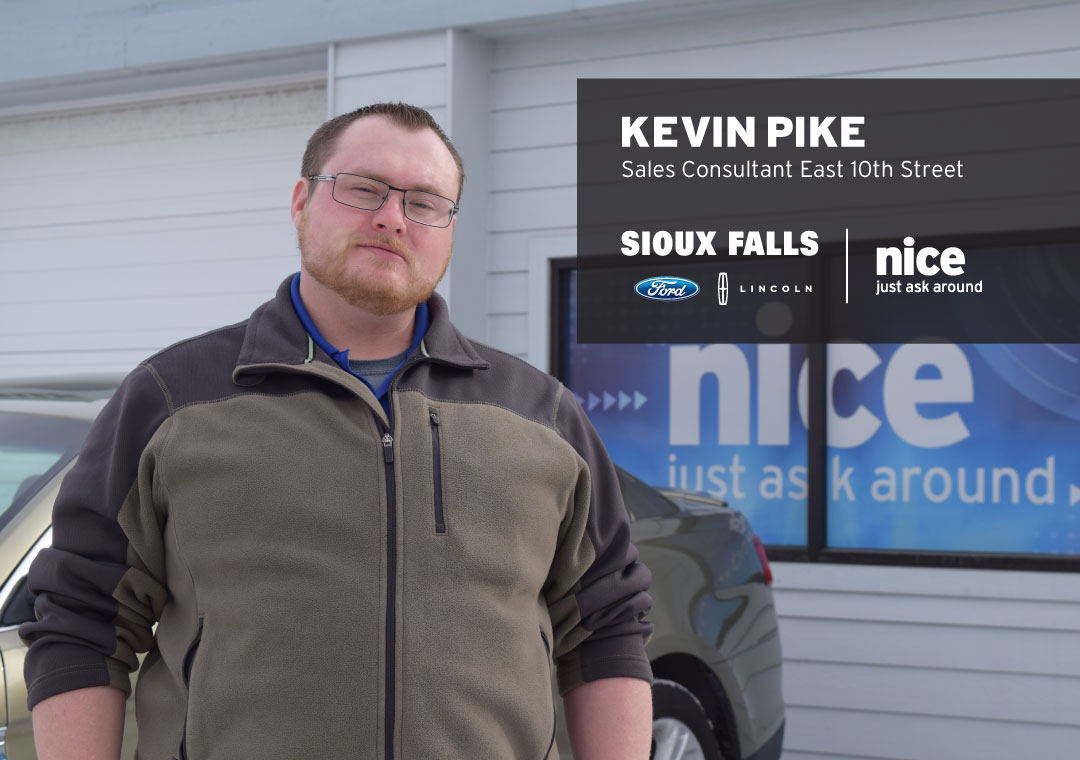 Welcome to another edition of #MeetUsMonday here Sioux Falls Ford Lincoln!
Today, we'd like to introduce you to Kevin Pike, Sales Consultant at our Sioux Falls Ford East 10th Street location.
Question: How long have you been part of the Sioux Falls Ford Lincoln family?
Kevin: I actually started in the detail department. Worked there for 4 years, and then moved out of the auto industry for awhile, but came back as a Sales Consultant and have now been here for 6 years. I started at the main Sioux Falls Ford Lincoln building and moved to this East 10th street location after 10 months.
Q: What is the nicest thing about working at the East 10th Street Pre-Owned location?
K: The nicest thing would have to be the close interaction I have with my customers. I work with each customer personally from introducing myself to saying "enjoy your vehicle". I am involved in every aspect of the sales process.
Q: What are some things people may not know about our East 10th Street location?
K: A lot of people don't know that we are part of Sioux Falls Ford Lincoln. When people come in they recognize the logo and the brand and they talk to us about how well they know the main location. We let them know how we are the same business, just selling pre-owned on the opposite side of town!
Q: What kind of vehicle do you drive, and what are some things you like about it?
K: I drive a 2003 Ford F-150 that I actually bought off this lot. I had been looking for that model of truck and it came to our lot. I like the body style on the 2003 and this one even had low miles.
Q: You are also connected to the main Ford location another way. Tell us a little about your father!

K: My father, Gene Pike, works at Sioux Falls Ford Lincoln. He's been there since before it was called Sioux Falls Ford Lincoln! Which means I grew up around the Ford store. I got to know everyone, especially the "old timers"! Then, one day, my father tells me "you should come join the company", and here I am.
Q: What are some things you like to do in your free time?
K: I'm musical and like to play guitar, and have been playing it for about 15 years. I can also play the piano and violin. And I love to hang out with my wife of 3 ½ years and our 2 ½ year-old son, Coheed.