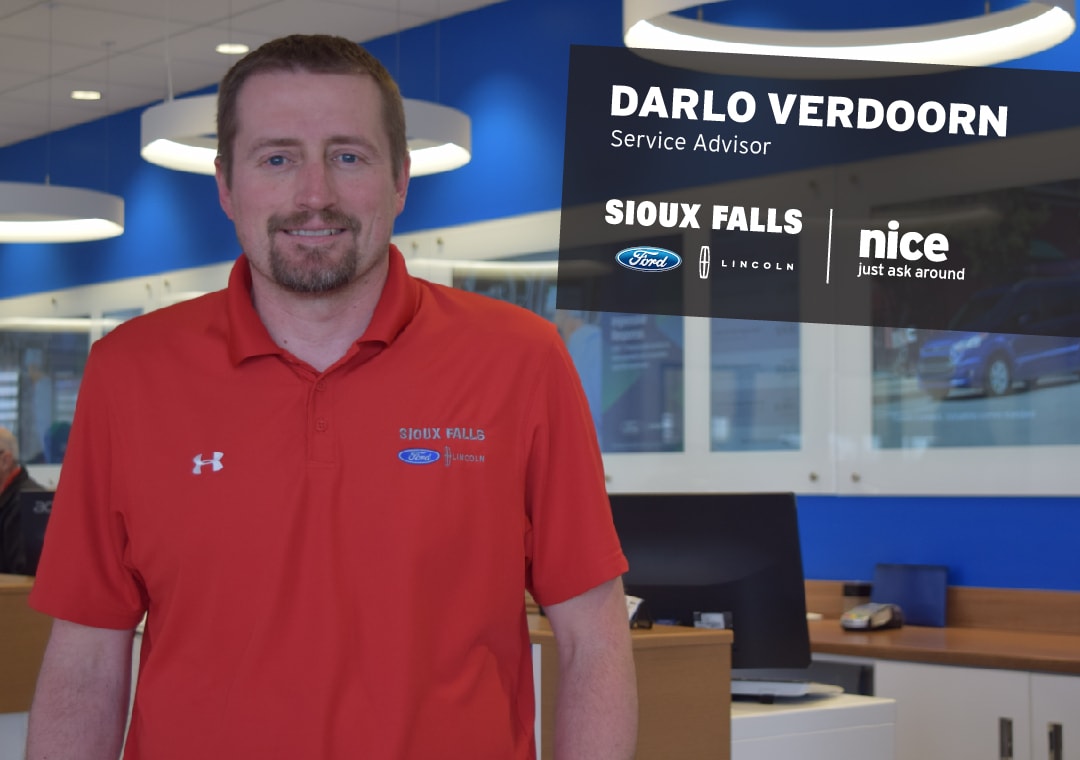 Welcome to another edition of #MeetUsMonday at Sioux Falls Ford Lincoln!
Today, we'd like to introduce you to Darlo Verdoorn, Service Advisor here at Sioux Falls Ford Lincoln.
Have you worked with Darlo? We'd love to hear from you in the comments!
Question: How long have you been part of the Sioux Falls Ford Lincoln family?
Darlo: I started here in January of 2017, though I have plenty of Service Advisor experience. I've been in the automotive industry for 18 years.
Q: What is the nicest thing about working in the service drive at Sioux Falls Ford Lincoln?
D: The nicest thing about working in service is the people I work with and the people I meet. I also like working at this
new dealership
. We have twice the capacity of the old dealership and we are getting through more repairs.
Q: How many customers do you talk to in a typical day?
D: Good question! If I had to guess, each of us advisors talk to around 50 people in person and on the phone. A lot of people each day!
Q: Service Advisors have to work closely with both the parts department and the service technicians. How do you work to make this process streamlined and efficient for vehicle repairs?

D: We have an automated dispatch system for work repairs. When we write up a ticket for a vehicle repair, the computer system automatically dispatches it to a technician's computer. As soon as they finish a job, another one pops up; and they come up to the advisor for the written ticket. Technicians are also able to electronically submit a request to the parts department for their needed parts. Things have really updated in how our service process works, and it's going great.
Q: What vehicle on the lot is your favorite, and what are some things you like about it?
D: I'd have to say the
Ford Super Duty
. I like the tech, towing capacity and just the stuff you can do with it. It also looks and sounds cool – I like the sound of diesel power!
Q: What do you like to do in your free time?
D: Hang out with family. We do a lot with the kid's sporting events. I have 3 children and they are involved in baseball and soccer. Otherwise, I just like to relax at home!