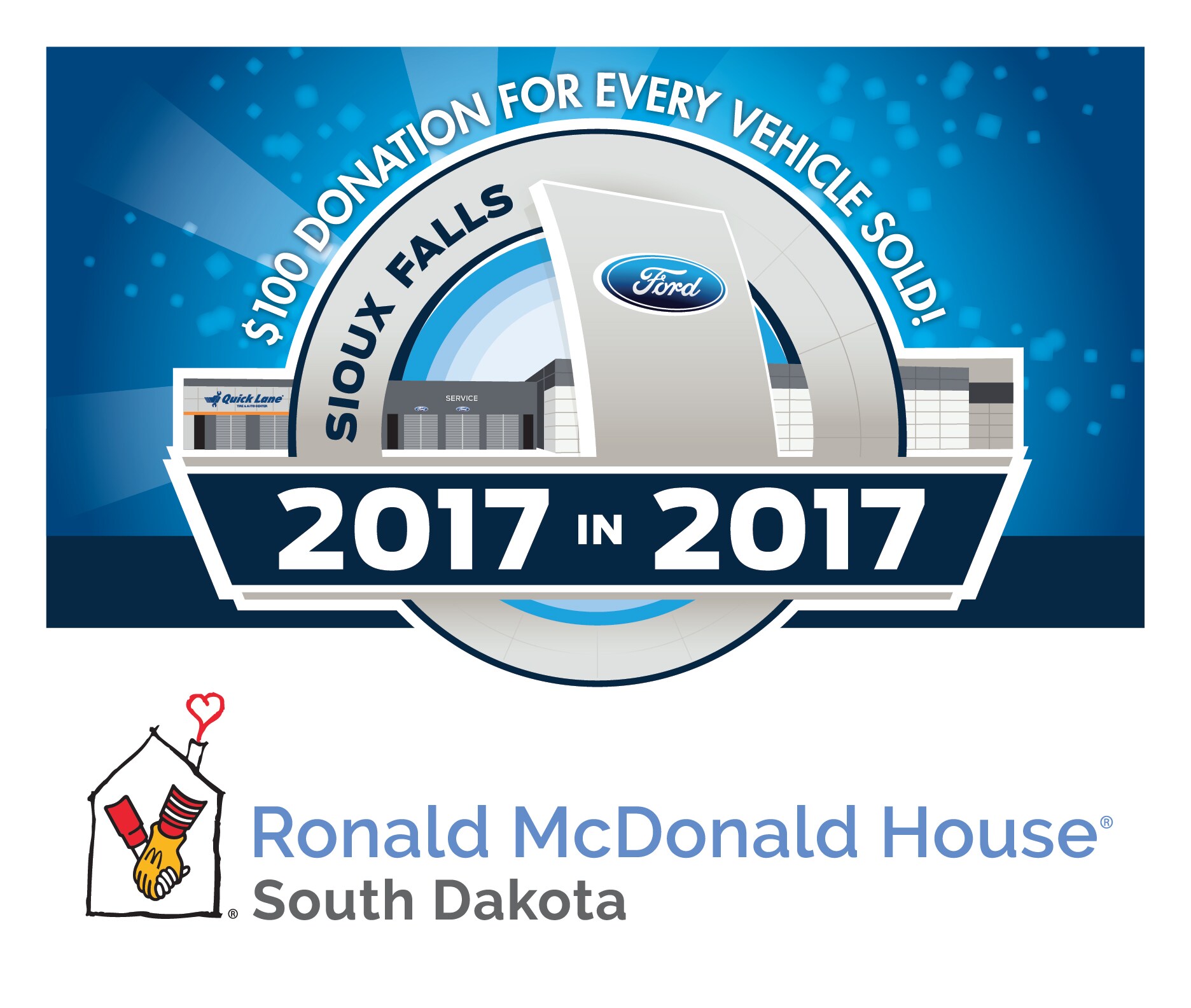 At Sioux Falls Ford Lincoln, our goal is to sell 2,017 new Fords in 2017!
How are we doing this? By offering the best prices and values of the year – with our best selection ever!
Plus, we are supporting our community. We are donating $100 for every vehicle sold, new or used until the end of the year!
You get to choose from 1 of 3 local charities, including the Ronald McDonald House of South Dakota.
We've already raised over 26,800 for Ronald McDonald House alone! Want to know how your donation choice to Ronald McDonald House helps? Here is a little more information about this amazing organization and how donation funds provide needed help:
To provide a healthy, caring and comfortable home that supports families and keeps them together during a child's illness.

Donations to support:
Keep Families Close - Offering a home close to the hospital. There is nothing more important than a child's family being close by while he or she recovers. NICU babies, pediatric cancer, auto & farm accidents, and short and long-term care. Every dollar raised and donated helps keep our houses operating. Just as our own homes require upkeep and maintenance, monthly bills and dues, we too need to provide everything that comes with a home: heat in the winter, AC in the summer, lights and gas. Our 2 houses—a 21 bedroom home on Lake Ave. and an 8 bedroom home on 24th Street require constant upkeep and care—at an accelerated pace!

Our vision as we celebrate 34 years of helping families from South Dakota, the upper Midwest and beyond is to continue offering a safe reprieve; a place of rest for families while their children remain hospitalized. We hope to use our resources to not only provide a welcoming environment for families who have traveled distances to be here, which includes basic human needs (rest, food, warmth and safety) but to grow our family programing, offering resources for every family member that walks through our door. We also have a vision to restore and renovate our homes and its rooms, after seeing on average more than 1,000 families walk our hallways every single year (more than 9,000 nights, saving families more than $1,000,000 in hotel expenses!). We are so proud to provide this place of rest to families going through the worst.

As you give yourself the gift of a new vehicle, it spreads even further with a gift to the community. 2017 in 2017 – happening now until the end of the year at Sioux Falls Ford Lincoln!