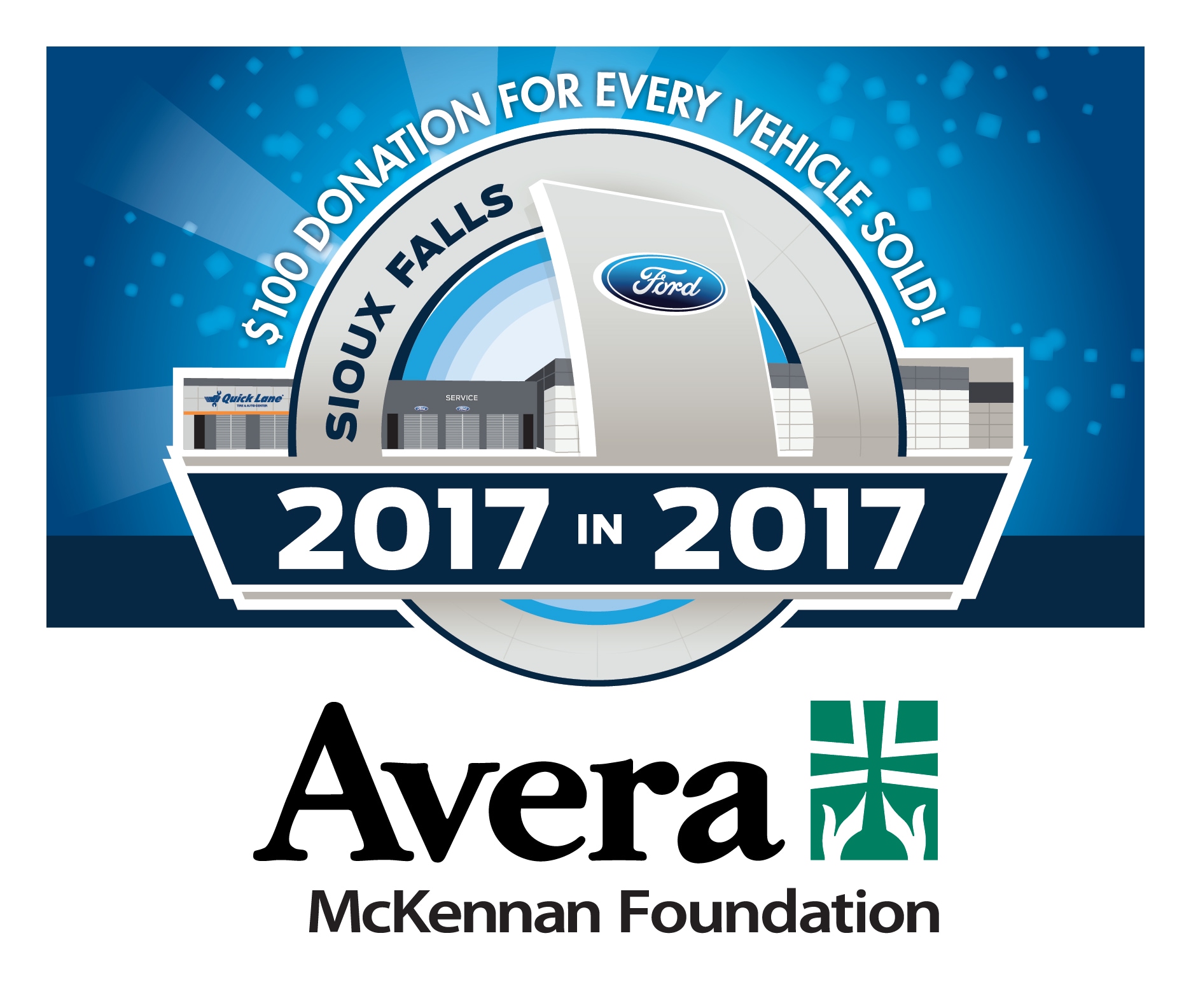 At Sioux Falls Ford Lincoln, our goal is to sell 2,017 new Fords in 2017!
How are we doing this? By offering the best prices and values of the year – with our best selection ever!
Plus, we are supporting our community. We are donating $100 for every vehicle sold, new or used until the end of the year!
You get to choose from 1 of 3 local charities, including Avera McKennan Foundation.
We've already raised over $25,600 for Avera McKennan Founation alone! Want to know how your donation choice to Avera helps? Here is a little more information about this amazing organization and how donation funds provide needed help:
To make a positive impact in the lives and health of persons and communities by providing quality services guided by Christian values.

Donations to support:
Child Life Specialists - Ensure that life remains as normal as possible while your child is hospitalized by working with an Avera child life specialist. These child development experts promote effective coping through play, self-expression activities, and age-appropriate medical preparation and education.

NICview Cameras - One in eight babies born in the United States are preterm, making that the number one reason babies are admitted to the NICU. That can be a very emotionally draining time for parents, as the length of a baby's stay in the NICU varies. The Avera McKennan NICU is keeping parents connected to their babies 24/7 – even when they're away from the NICU. All NICU families have free access to the NICView. Between 370 and 425 babies are admitted to the Avera McKennan NICU each year – with 70 to 90 transported from hospitals outside of Sioux Falls.

Pediatric Programs and Advanced Technology - At Avera Children's Hospital your family has access to services of Avera McKennan Hospital & University Health Center in one convenient location, for example, surgery, laboratory, radiology and imaging, emergency services and more. Avera Children's includes our Level III Neonatal Intensive Care Unit (NICU), pediatric intensive care unit, and the region and city's only specialized child and adolescent units at the Avera Behavioral Health Center.


As you give yourself the gift of a new vehicle, it spreads even further with a gift to the community. 2017 in 2017 – happening now until the end of the year at Sioux Falls Ford Lincoln!